Isn't that a quote from Back to the Future?
Yes, it is the last line of that time-travelling 1980s movie epic, but it also describes what our approach to 21st century travel could look like: instead of handing over most of our public realm to motorised traffic, we could allocate that space to parks, outdoor cafés and restaurants, public transport, walking and cycling, and public art. Creating places where people, live, work and thrive, not just drive through.
That still sounds like a Hollywood happy ending, not real life.
Not at all. Cities across the world are being re-designed for people rather than for cars: Melbourne started the trend with its vision for a 20-minute city; Paris is investing in the '15-minute city' or 'La Ville Du Quart D'Heure'; and Barcelona plans to have 1/3 of its central streets car-free by 2030.
But those are big cosmopolitan cities outside the UK, would that work here?
It's already happening. The flagship Low-Traffic Neighbourhood (LTN) in England is the 'Mini Holland' scheme in Waltham Forest, London, and other examples are popping up all over the UK. Not to mention down here in Southampton.
Wasn't 'Mini Holland' part of the inspiration behind Breathing Spaces?
When we started our community project in January 2019 we did not dare to dream that it could actually result in quieter streets and cleaner air. But last week (mid-November 2020) the first planters went in on a couple of streets in St Denys as part of the city council's first Active Travel Zone. By closing roads to through traffic, they are becoming safer and more pleasant for everyone. Back in February we took a small group of people to Waltham Forest to experience low-traffic streets for themselves and now other residents can begin to do the same.
But an 'Active Travel Zone' sounds like it involves lycra and leisure centres.
It's not about getting sweaty. This is just another name for a low-traffic neighbourhood, where motorised vehicles have restricted access, pavements are extended, and the area is made more pleasant with tree planting and artworks. The space is effectively given back to residents, who can still get to homes and local businesses by car, but rat-runners can no longer cut along residential streets.
The map below shows the plan for St Denys including the locations of modal filters. These are barriers in the street such as wooden planters and bollards, which allow cyclists and pedestrians to pass through, but not motor vehicles.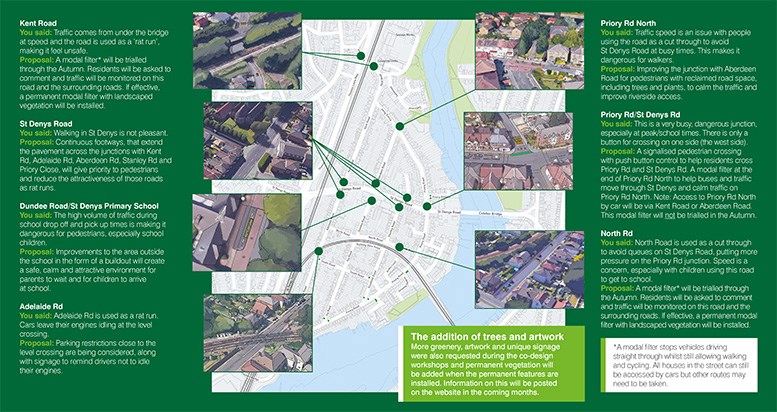 Why do we need low-traffic or 20-minute neighbourhoods?
"Our acceptance of the disfunctions and indignities of modern cities has reached a peak."

Carlos Moreno, The 15-minute City
Air pollution, climate change, obesity, road traffic casualties, noise pollution, re-prioritising space during the pandemic – these are all big reasons why we need to transform our cities into places for people, not for traffic. But equally important are stronger community connections, child-friendly spaces and enabling people to get around quickly and safely on foot or by bike. There are also economic benefits for businesses that are located in low-traffic areas, such as Bedford Place in Southampton, as people who walk or cycle there spend up to 40% more than motorists.
How did they decide which roads to close?
It's worth emphasising here that the roads are still open to cars, and to people on bikes, scooters, on foot or in wheelchairs, but have been closed off at certain points to deter rat-runners. A low-traffic neighbourhood is not the same as fully pedestrianised area (such as West Quay).
Residents of St Denys were invited to add suggestions to a Commonplace map and almost 1,000 comments were received. The council then ran 4 co-design workshops where residents were able to discuss and develop different options for redesigning their neighbourhood.
Won't this mean more congestion on main roads?
This is one of the myths around LTNs, but recent research and traffic counts found that they do not actually cause traffic jams or disproportionately impact lower-income households.
Pop-up cycle lanes have also been causing concern, but the truth is that congestion is caused by too few cycle lanes, not too many. In Copenhagen, one of the premier cycling cities in the world, if a road is congested with motorised traffic, that's when they add more space for bikes.
How long will it be in for?
Unfortunately, city traffic won't disappear overnight. In order to see significant benefit, the measures should be in place for at least 12 months. This is roughly how long it takes for changes to bed in and for people to choose other ways of getting around. In St Denys, the modal filters are trials and their impact will be assessed after 6 months, when it is hoped they will be made permanent.
Recent research into all of London's 10 LTNs advises that a year is needed so that their impact can be 'disentangled' from broader trends, for example, regional increases in traffic flow. This is especially important considering the £27billion that the Government is investing in new roads, compared with the mere £250million allocated to reducing car use. (By the way, you can help stop this massive road building programme by supporting this legal challenge).
"…as with any measure involving short-term construction or disruption, initial consultation responses may be skewed negative reflecting early disruption rather than benefits (for instance, until services like Google Maps are updated, drivers may continue to try to use 'filtered' streets, causing disruption as they U-turn to avoid the new restrictions)"

Rachel Aldred & Ersilia Verlinghieri, 'LTNs for All? Mapping the Extent of London's new Low-Traffic Neighbourhoods'
I want to live in a Low-Traffic Neighbourhood. How do I make it happen?
Glad you're feeling inspired! Loads of suggestions on where to start are available here and here. Three key pieces of advice from us though:
Connect with others in your neighourhood who might also want to see change. It will spread the workload, you will make new friends, and it will be much easier to get widespread community support that way.
Discover what's most important to your community – it's probably not cleaner air, but rather: having places to sit and meet outdoors, being able to get to the shops easily or stopping people parking on pavements.
Talk to your local councillors and transport planning officers at the council about your ideas. If they can see that a movement for change is building, they will be more likely to support it.
However, grassroots projects and community building don't have to focus on a whole area – why not just think about the street where you live? Setting up regular Play Streets for kids is one option. School streets are another great way of energising a community to think about safer, healthier streets. Southampton ones have had really positive responses so far.
What impact did Breathing Spaces have in St Denys?
We kicked off conversations about cleaner air & healthy streets through Clean Air Cafés and Open Streets events. The city council took notice and chose St Denys out of 85 other areas in Southampton for its pilot low-traffic neighbourhood because of the strong community buy-in. We were fortunate that our project was funded by Nesta, which meant that we were able to dedicate time and resources to hosting community conversations as well as collaborations with both Southampton Universities to monitor local air quality.
If you're in favour of the changes you're seeing in St Denys please do drop a line to council officers to let them know. It's important that we show our support: traffic.orders.legal@southampton.gov.uk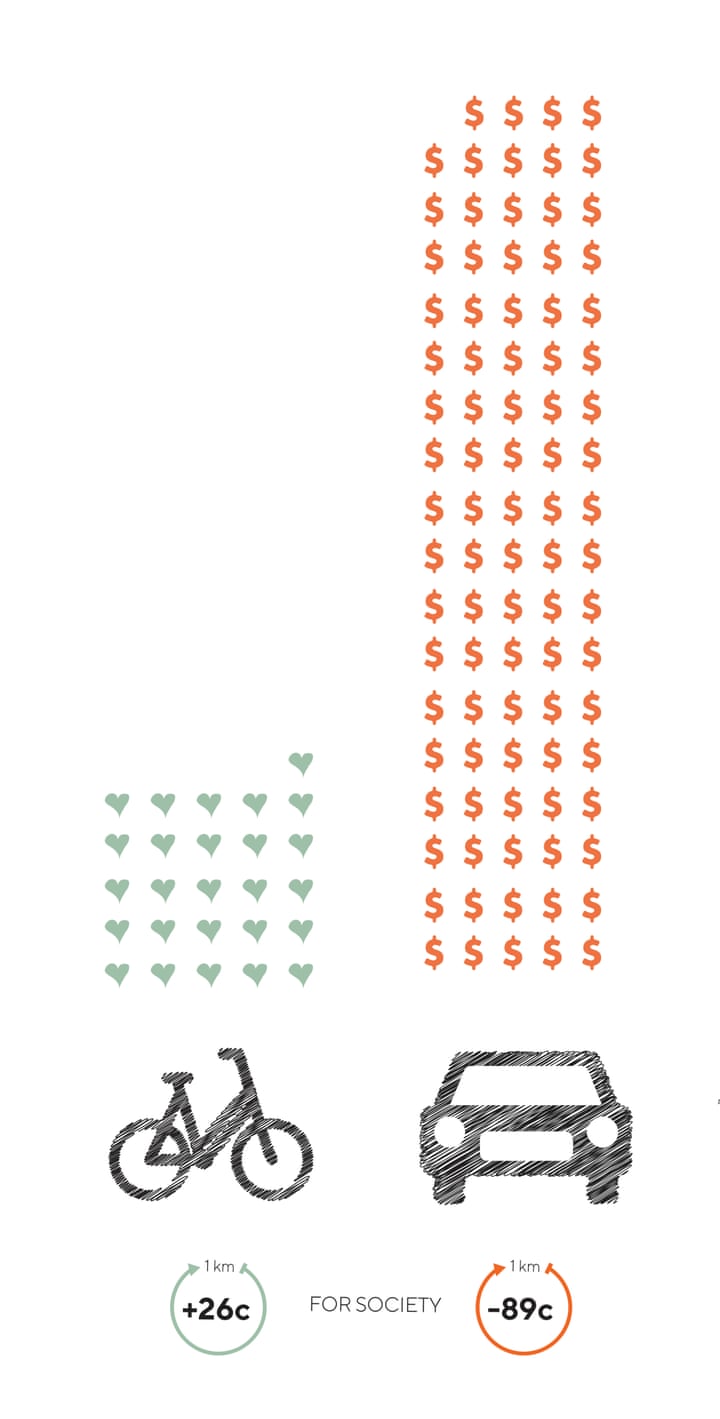 ---
Main image: Car-free Earth Day 2018, Herald Square, New York City – New York City Department of Transportation, Flickr Creative Commons